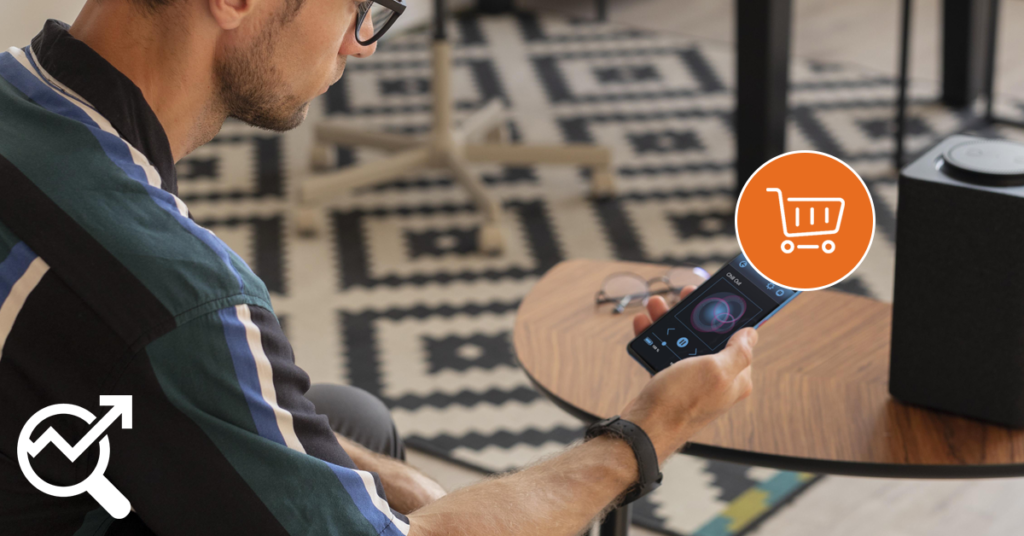 The introduction of Alexa by Amazon totally revamped how we were carrying out regular activities like listening to music, booking a cab, or searching for something on the internet. Giving voice instructions to an electronic device to get things done is truly fascinating. Due to its increased convenience, this technology became widely popular and people across the world were quick to include it in their daily lives. Figures state that shopping through voice commands is expected to touch a soaring $40 billion in 2022. So, if you are a seller on Amazon, it is time that you start paying attention to this building trend and revisit your Amazon SEO services provider to update your store and make it voice search friendly.
With so many people buying Alexa, it directly implies that they will be shopping more on Amazon since Alexa only shops on Amazon. Hence, making your Amazon store optimize according to the latest voice commerce algorithms is a given now. Yes, we know that with every update in consumer shopping behavior, sellers need to upgrade their Amazon product listing optimization services, but let us first find out what this fuss about voice commerce is all about.
Voice commerce- what and why?
Voice commerce is also known by many other terms. Some of them are- voice-assisted shopping, conversational shopping, and even V-commerce. This kind of shopping uses the power of artificial intelligence to help buyers purchase commodities on the internet with just voice instructions. As understood, the speaker or the mobile phone has to be a smart device that supports this technology. We know that smartphone usership has taken over the world today. This has received further impetus from the global coronavirus pandemic that forced everyone to go digital. Hence, we cannot afford to neglect this medium as more and more people are turning towards the internet to solve their issues and fulfill their requirements.
Just like the reasons for success for most technologies, voice commerce became successful because of the increased convenience that it offers to people. Also, users enjoy the seamless experience of remaining connected from different devices. Not to forget, the pandemic again introduced all of us towards a touchless shopping life, and technology like voice commerce is the perfect way to ensure uninterrupted purchasing without compromising on health and hygiene.
How to optimize products for Amazon voice search?
Alexa is also like any other search engine where you give instructions and you get recommendations. So, just like Google and Bing, you need to optimize your Amazon product pages or Amazon store in order to rank at the top of the recommendations. We know the eCommerce space is a highly competitive one. Hence, to continue gaining revenue through Amazon, you must take your Amazon SEO services very seriously. After all, you don't want your competitors to jump up and take away a major chunk of your target audience.
Amazon optimization services involve a layout of several steps that help Alexa find you out on time. Of course, this does include some classics from the good old SEO tricks of digital marketing too. So, let us take a quick glance at some of the points that entails Amazon product listing optimization services as per voice commerce guidelines.
1. Amazon Choice program
Amazon has constantly expressed the importance of being on its Amazon Choice. Their algorithm suggests products and stores that have their Choice badge. To get the Choice badge, make sure that your products have appropriate product descriptions, and a good number of positive reviews.
Alexa suggests products that a buyer has already purchased. So whenever a user asks Alexa for a particular product, the software will scan through past purchases and make a recommendation accordingly. Hence, as brand owners, you will have to push for sales. This can be done with smartly laid out Amazon SEO services with the right digital marketing tactics. Using high search volume keywords, sales-encouraging language, CTAs at the right places, informative and authentic product description, engaging content, etc. can help you welcome more repeated customers. If you are new on Amazon or struggling to make frequent sales, you can begin by optimizing your metadata and description.
2. Go for bespoke conversational content
Voice technology is being updated every minute. It is being trained to understand human speech better, including its underlying sentiment and provide appropriate suggestions. So, to keep up with the intention and changing voice technology algorithms, make sure you create content that is conversational in nature. One good way to go about it is to include long-tail keywords. You can put them into the product descriptions and titles. This way, you can create interactive content that will answer customers' queries and also stand up in the test of changing voice algorithms.
3. Target multiple funnel stages
Voice commerce experience can work wonders for funnel marketing. Loop in your target audience at every stage by offering information that slows smooth in a conversation. For example, offer them a how-to manual, or the navigation route to the store. You can also provide them with information about your online store. This will make the engagement interesting and render a touch of emotion instead of sounding like just a machine answering your queries.
4. Create mobile friendly pages
Users do voice searches not just on smart speakers but also on their smartphones. Hence, your Amazon store and product listings must be optimized to appeal to consumers using smartphones or tablets. Keep in mind to create content that is easy to view, navigate and understand. If you skip this crucial part, you may end up losing a significant amount of business to your competitors. Users enjoy shopping on-the-go and smartphones have become the best gadget for it. By creating mobile friendly store pages, you not only invite more engagements but also enjoy higher conversions from the incoming traffic.
5. Create your content as voice friendly
What is voice commerce if it does not have a user friendly language that pulls in customers. Well, this is not just limited to the brand language. In the back-end too, you have to design a language that can be picked up by Alexa easily. Go for repeated testings so that you know how convincing it sounds and if it portrays the brand in the right manner.
As brand owners in the time of internet commerce, it is crucial that you recognize the power of offering convenience to your customers. Every new technology is aiming to provide that. As long as your branding strategy is in sync with this goal, your company is sure to rise in the eCommerce space. Amazon product listing optimization services only prepare your brand for the competitive future, but also add value. To market yourself as an updated brand that is in line with the latest technical developments in eCommerce gives you an edge and helps you stand out. Your brand history will be a strong one and you will project yourself as one that understands trends and predicts the direction of the ecosystem.
Why now is the moment to go for Amazon Product Page Optimization Services?
So far we have described how you can make your brand stand out in the realm of voice commerce and how Amazon optimization services for voice commerce can boost your brand. But you may think why is it necessary to do that? What if this one turns out to be one of the many trends that just came and went. So, here we answer these questions and try to find out if brand owners should take voice commerce seriously at all.
As we know, technology is aimed at making life simpler for its users. Look at everything around you- every electronic device is getting smaller, sleeker, and more powerful, communication has been transformed, education is revamping, and so on. With the onset of voice commerce, users felt a sense of control and convenience together. With voice commerce, they could get things done while they are manually engaged with some other activity. According to studies, worldwide smart speaker sales will soar beyond $30 billion by 2024. Hence, we can already see that this technology is here to stay.
Incorporating Amazon product page optimization services as per voice commerce rules at this still nascent stage will give your brand the edge to outrun your competitors even before their hop on to this wagon. Give them the unique experience of voice shopping at your store before it becomes a common phenomenon. Uniqueness is something that is not tangible and customers will retain your brand for the unique experience they had.
How to ensure high-quality Amazon optimization services for voice commerce?
Amazon SEO services for voice commerce is still a new thing and brands are still trying to figure out their ways around it. Hence, in order to make the most of the situation and stand out in the crowd by ensuring error-free yet high-value Amazon product listing optimization services for voice commerce, companies are opting to outsource Amazon marketing services to experienced agencies.
As we know, such outsourcing companies have years of notable experience as they have been in the industry for a long time. They also have highly experienced resources that can be hired at affordable rates. Outsourcing Amazon SEO services for voice commerce also gives you the power of using the latest tools and technology to achieve the desired results without having to purchase them yourself. So, when you outsource Amazon marketing services, you get voice assistants to build your brand in a holistic way.
At SunTecIndia.net, you can lay your hands on some of the most richly experienced eCommerce marketing resources of the industry. Our resources have been in this field since its initial years and hence, they understand its evolving nature. When you outsource Amazon marketing services to us, we offer solutions that will optimize your brand's presence on Amazon in every way. Whether it is voice commerce optimization or creating bespoke Amazon A+ or A++ content, or eCommerce catalog management, we have you covered from all sides.
So, what are you waiting for? Hand us your Amazon product listing optimization services and enjoy high-quality results with guaranteed satisfaction at affordable rates. Drop us an email at info@suntecindia.net and our expert will revert as soon as possible to help you understand our services better.
FAQ
1. How will optimizing for voice commerce boost sales on Amazon?
As more and more people buy Alexa, they will also shop using this smart speaker as it offers greater convenience. Not only Alexa, people are using their smartphones too, to shop using voice instructions. As we know that voice commerce technology is still evolving, optimizing your Amazon eStore content by including conversational content will help Alexa recommend it to more and more users. This way, by optimizing your eStore for voice commerce, you can stand to gain more business.
2. What are the challenges of voice commerce optimization?
Voice commerce, as we know, responds to users' speeches. Now, people across the globe have different accents which makes it difficult for voice algorithms to pick up the right sound of the instruction, interpret it, and offer the right results. To overcome this challenge, brands should hire expert optimization resources that are backed by the latest tools. Such resources can also study the demographic appeal of the product and then include words that are relevant to the target audience to make the brand stand out in voice search results.
3. What should I look for when deciding on an Amazon SEO services outsourcing partner?
We know that Amazon constantly changes its algorithms to offer relevant results to its users. Hence, you must look for an experienced organization that comes with highly skilled resources. These resources should have an understanding of the digital marketing field and also have the access to the most updated technology and tools. Also, to outsource Amazon marketing services means that you get to hire according to your budgetary requirements. so, do remember to check out their prices as well.

Welcome to the SunTecIndia.net Blog! This platform is dedicated to the new age, quality-driven eCommerce ecosystem, where we leave no stone unturned to collate the best and latest insights about end-to-end eStore creation, management, SEO, and marketing domains.