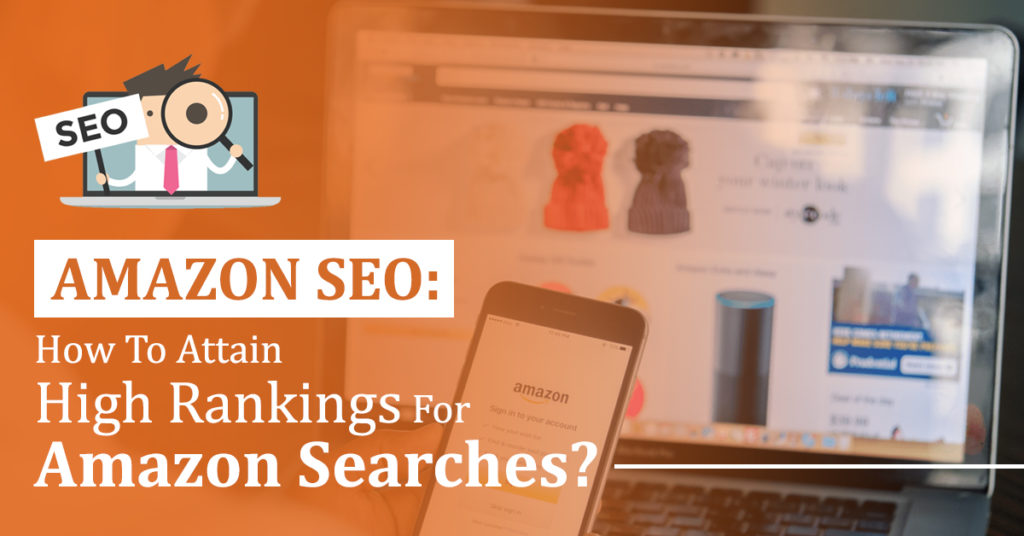 All too often, when you think of SEO, do you end up thinking only about Google? Well, you are not the only one because anyone with a website would want to achieve higher rankings on the search engine results page.
However, you must remember that your website isn't the only place where you meet your buyers or sell your products/services. What about your product page on Amazon? Don't you want it to show up in the search results as much as you want your website to rank? You definitely do, and this is why eCommerce SEO services for online stores exist.
Long gone are the days when sellers would simply load their products on Amazon and wait for the paychecks to start rolling in. Today's marketplace wouldn't simply allow you to sit back and see the play. You need to tighten your belts and work parallelly with Amazon SEO to achieve more sales, customers, rankings, and visibility. Just like general SEO, Amazon SEO also helps you get more traffic, visibility, and sales but the algorithm i.e. A9 is a bit different.
In this article, we will brief you about Amazon SEO and how you can optimize your Amazon product listings for higher rankings.
Let's start with the basics.
Introduction To Amazon SEO
Amazon SEO is all about optimizing your product listings to rank higher in Amazon search results. While Google and Amazon's search algorithms might be similar on some grounds, the Amazon search algorithm doesn't match the user's query with the most relevant answer but focuses on making a sale. In other words, Amazon's A9 algorithm operates with only shopping (in mind) – it displays the most relevant products in search results, as opposed to the informational articles that Google surfaces. In this way, Amazon streamlines a buyer's journey from search to purchase.
As the global eCommerce leader, Amazon's prime focus is its bottom line and selling as efficiently as possible to millions of customers. Thus, it is vital for sellers to understand Amazon listing optimization for better product visibility, ranking, and sales.
A9: The Amazon Algorithm
Developed and owned by Amazon, A9 is all about answering the customer's query with the most relevant products, ones that are most likely to sell.
Since millions of people search on Amazon, it only has a few seconds to decide what to display from its product base. In order to get hold of this, Amazon product ranking services follow the below steps:
Separates the products that are not related to the search query by analyzing the keywords.
Considers the possibility of product purchase by analyzing certain performance metrics including CTR (Click Through Rate), CR (Conversion rate), and sales.
Google, every day, witnesses diverse types of searches, the majority of which are informational, Amazon on the other hand gets more transactional searches. That's why the algorithm actually comes down to:
Each of the two ranking factors can be broken down into subcategories. Once you optimize your product listings for them, you are bound to experience higher conversions, sales and revenue. So without any further ado, let's see how you can optimize for higher rankings this year.
Amazon Product Listing Optimization Strategies: Relevance
Product Title
When it comes to relevance, the product title is one of the most important ranking factors. It is that part of the listing that brings in the greatest impact (positive and negative), so you'd certainly don't want to play with it. Below are some things that you must include in your product title to optimize it:
Brand name
Color
Material or key feature
Size
Packaging/quantity
Type
The secret behind a well-crafted title is how you order these elements and balance them with relevant keywords. Since the number of characters that Amazon allows in a title is limited, place the most relevant keywords first. However, don't keyword stuff as this might make your title look unnatural and spammy while leaving a negative impact on your click-through rate. You can always seek help from Amazon enhanced brand content copywriting experts.
Backend Keywords
Amazon allows sellers to offer a list of keywords on the backend to enhance product discoverability. These are basically the 'hidden' terms that aren't visible on the main product listing, which means you can cover all of your bases for keywords under 250 characters. Here are some practices to optimize your backend keywords for Amazon rankings:
Put the most relevant keywords first
Don't repeat any words
Avoid quotation marks or commas to save characters
Add in related search terms
Include alternate spellings of your products (if any)
Avoid using irrelevant keywords
Brand Field
You can find the brand field right above the title/headline on the product page. Since it links to more products from the same brand, as a seller, you must be careful with spelling your brand when you list your products because most of the shoppers search for a product based on its brand name. Thus, accurate brand name is the key.
In case your product has diverse brand names that you could conceivably use, use any keyword tool which helps you in determining the most searched variation for the brand name. This, in turn, will help you achieve higher rankings and customer satisfaction.
Product Description
This is your chance to win and persuade visitors to buy by telling them about your product. Make your product description informative, convincing, helpful, and readable by using the right words. You could possibly consider the following tips to optimize this part of your listing:
Avoid re-writing: Don't end up telling what's already mentioned in the product title. Mention your product's details, benefits, or features to inform customers and help them in making the purchasing decision.
Tell a story: Give your product description a unique angle by telling a story to your customers. This will help customers in knowing how the product can help them in real-life and connect better with your brand.
Make it readable: No one wants to read long paragraphs, especially when they are shopping. Your product description must be as precise as possible yet informative. You could break it down into paragraphs (three lines each) so that it's both easy to read and understand.
Use Amazon SEO tools: Amazon offers a set of tools to choose from, such as lists, bullets (discussed below), bold/underline/italicize which enhance your descriptions and make them appealing.
You could also consider taking assistance from Amazon product ranking service providers who can help you craft an appealing product description – one that's both precise and detailed at the same time.
Bullet Points
It's no wonder, the majority of the audience would prefer concise bullets over paragraphs. Not only are bullets easy to read but scannable. You could list down all the major features of your product in each bullet or mention crucial details to help your audience in choosing the right product. Don't forget to target the right keywords to further add value.
Since the limit is 200 characters per bullet point, make sure you use relevant keywords and information to stand out.
Amazon Product Listing Optimization Strategies: Performance
Product Price
It goes without saying, pricing is one of the most important factors that affect the purchasing decision. Consumers would want to get the best product for the least amount of money. If your competitor is selling the same product for a lower price, consumers will undoubtedly buy it from them. Thus, it is important to analyze your competitor's pricing and set your prices accordingly.
If your products are priced high as compared to others in the same category on Amazon, not only will the customers stop buying from you but Amazon's algorithm will also prejudge that your product won't likely sell as many as the others. Thus, to avoid any such thing, it's important to analyze competitor's pricing and act accordingly.
Images
When it comes to buying online, product images play a vital role as people need to see their desired product(s) from different angles to get a better idea since they can't physically see the product. According to Amazon, advertisers should display images that are clear, attractive, high-quality, and accurate to clear off any doubts that the consumers might have about the product's appearance.
You can consider the to follow for your Amazon product images:
Have a white background
Must be equal to or larger than 1,000x 1,000 pixels so that shoppers can zoom in.
Include product videos or 3D images if possible.
Don't use illustrations
Use only JPEG (.jpg), TIFF (.tif), or GIF (.gif) file formats
Optimizing your images well can have a direct impact on your conversion rate while improving your listing's ranking. You can also take assistance from experts by leveraging Amazon photo editing services in order to get the best images and results.
Reviews
You'd be surprised to know that nearly nine out of ten consumers worldwide read reviews before buying a product (Trustpilot, 2020). Thus, one thing that's clear is that reviews definitely play a huge role in sales. In other words, reviews can be the reason a consumer buys your products or decides to pass.
Products that are at the top of search results generally have high ratings (four or more stars). These are probably the best-selling products and several customers buy them. It is important for you to encourage your customers to leave feedback and reviews on the product page once they have made a purchase. You could remind them by dropping them a pleasant mail. One thing to remember is, there might be people who leave negative reviews, depending on the experience they have had with the product. Your job is to address their problems, offer solutions such as replacing the broken or damaged products, and respond to their questions to build trust and encourage more people to buy. This further will enhance conversions, positive reviews, and ultimately rankings. However, don't play with the algorithm by indulging in fake reviews as it might completely tarnish your reputation.
Final Verdict
Amazon SEO optimization is all about knowing what Amazon's algorithm expects from you as a seller and implementing the best practices for the best results. Though the product listings can be optimized in various ways, they all boil down to relevance and performance. Once you optimize for these two, you can reap benefits in terms of search rankings, conversions and sales. We recommend you outsource eCommerce SEO services to experts who are well-acquainted with the Amazon guidelines and adopt exceptional practices to optimize your listings while helping you achieve desired results. Partner with SunTec India to optimize your product listings and rev up growth on the Amazon marketplace. We offer a comprehensive suite of Amazon listing services including Amazon PPC optimization services, Amazon product upload, Amazon A+, description writing, etc. to help you get the most out of your Amazon sponsored product ads. Hire eCommerce SEO experts from us now and get started instantly.

Welcome to the SunTecIndia.net Blog! This platform is dedicated to the new age, quality-driven eCommerce ecosystem, where we leave no stone unturned to collate the best and latest insights about end-to-end eStore creation, management, SEO, and marketing domains.