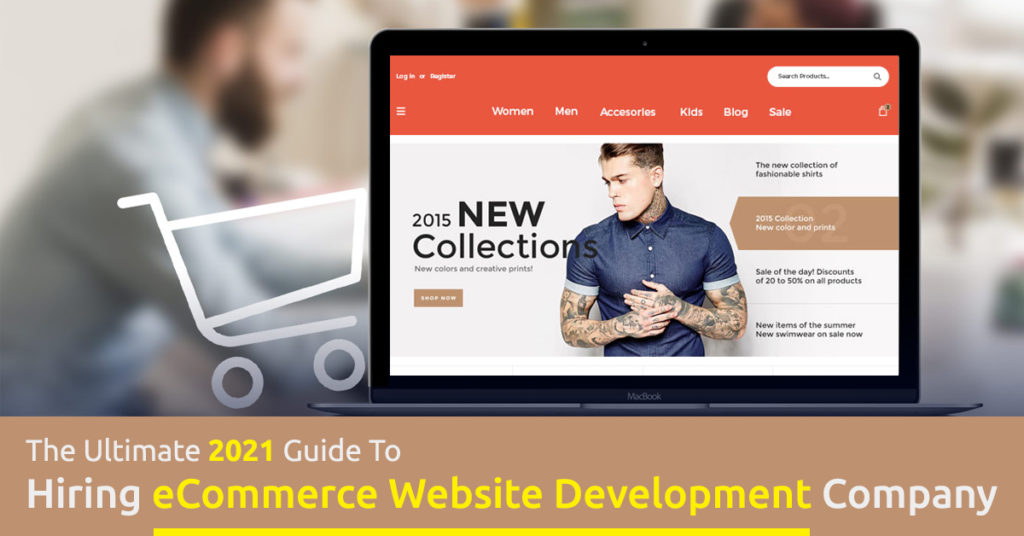 Table of Content
Choosing a development agency is not an easy task for sure. But, with this handy guide, you can easily make things work in your favor.
Let us first start with listing the prominent reasons why you should actually outsource the task to an offshore service provider.
Why Choose An eCommerce Website Development Company
By hiring a professional, yet approachable eCommerce website development services company, you will get access to a large pool of experts specializing in their own fields, guaranteeing deliverance of high-quality eCommerce websites with customizable functionalities and features.
The development company will provide you with bespoke solutions based on your distinct requirements and render round-the-clock support with a quick turnaround time. A dedicated project manager assigned to you will make sure that your task is accomplished within the stipulated deadline and budget. Making it user-friendly and SEO-optimized wouldn't be much an issue either.

What are The Factors To Be Considered Before Choosing an eCommerce Website Development Agency
We are now going to discuss the key factors that you must consider before actually deciding on an offshore eCommerce website development company. So, here they are:

Your Preferred Platform & Functionality: Decide in advance what functionalities, plugins, and eCommerce platforms you would want to move forward with and then go ahead with picking a suitable offshore company that specializes in that.
Your Projected Time-Frame Or Deadlines: When do you expect your project to get completed? Figure out a time frame deadline within which your outsourcing partner will accomplish the job.
Your Budgetary Constraints: It is extremely vital for you to set your expense limits and cost brackets for negotiating the best price for your project.
Your Location Preference: The location of your potential eCommerce agency does matter. You can always hire a local agency, but due to the inevitable pandemic situation, businesses have opted for remote services as well.
Your Choice Of Platform For Development: It is important that you choose a suitable development platform for your website and make sure that it is best suited for your environment.
Your Intended Communication Flow: What kind of communication mechanism are you looking for? It is for you to decide how frequently you intend to receive project progress reports and communication. Whether you need them on a daily basis, or weekly or monthly basis, it's you who has to decide.
The next thing is knowing the questions you should ask your potential eCommerce development agency before finalizing them for your project work.

Questions You Must Ask Before Hiring An eCommerce Development Agency In 2021
Whether you are planning to set up your eCommerce project or intend to migrate your eCommerce store, everything should be transparent between you and your developer or outsourcing partner. And so, there are certain vital questions that you must ask before outsourcing the job to just any random eCommerce website development company. After all, it is your eCommerce store that is at stake, right?

You should be very well aware of what you are actually looking for and what you expect your eCommerce development experts to deliver. While you outsource the task, you must clearly specify your requirements to them and make sure they know your expectations from them. This will help them understand your company's vision and cater to your project efficiently. In addition, you must also discover the various parameters involved and access all the potential roadblocks as well as risks that might come in the way of the process.

Asking a potential eCommerce development agency is a must. Here are a set of questions that you might want to ask an offshore eCommerce development company before handing over the project to them:

What frameworks do they have expertise in?
Ask your web development company about the frameworks and platforms they have worked on. Make sure that the platform you intend to use fits your business well. Have a clear idea about the choice of platform and inquire about their expertise and past projects of similar nature to get clarity.

What level of assistance and support will be provided to you?
With a reliable offshore company, you get regular updates on your project and progress reports from time to time. In addition, you also get round-the-clock assistance and support from your dedicated project manager. So, you need to ask your potential outsourcing partner about the level of support and assistance that you will be provided.

What will be the availability?
As far as availability is concerned, you must ask them about the various time zones they are available in and how well they can meet the deadlines. Collaborating with an experienced agency will benefit you in a number of ways. They get to meet even the tightest deadlines and can work in multiple time zones to cater to your requirements.

What are the various cost plans offered?
This is a typical question that every eCommerce store owner must ask before finalizing an outsourcing agency. Of course, you have decided on a budget and time frame. But, choosing a befitting offshore eCommerce store design service provider can be quite a challenging task for you. Ask them about the various cost plans they offer and see which one's best for you. Think thoroughly and only then arrive at a company based on your stipulated budget timeline.

Once the potential agency gets an idea of your requirements, ask them to quote the best rate that can take things forward.

Will my website be created from scratch or will it be modified?
It is completely up to you whether you want to create the website from scratch or choose to modify the website. Either way, if the website development company will expand on an open-source platform, just ensure that they disclose their accreditations and certifications, especially when you hire Magento eCommerce development experts. Request affirmations on the certifications and make sure those are authentic.

Have you worked with clients in the same industry or of a similar niche?
Ask your potential agency if they have experience working in similar niches. If yes, then go ahead and enquire about the jobs they have handled for the clients. After all, you must be sure that they can manage your eCommerce store efficiently. Ask them to share past data of their portfolio.

Does your potential agency have the expertise in making your site work seamlessly and consistently across mobiles, laptops, workstations, tablets, and PCs? If the answer is yes, then you should probably hire them. In this digital era, your site must be responsive. Another important thing to note here is that site responsiveness actually contributes to improving the SEO rankings. So, before hiring Magento eCommerce development experts or developers with any other specialization, do ask them about their familiarity with site responsiveness.

Is the site being coded in an SEO-friendly way?
This question needs to be asked before the coding starts. It is important that the agency is aware of the complexities of SEO and the best practices to follow, thereby improving the general look of the site.

Do they focus on page load time?
Page load time is a crucial determinator that can make or break a sale. If your website is taking time to load, the bounce rate is bound to be high, making your clients simply move to your competitors. The coding should be lightweight as well as lucid. So, this question must be asked to make sure they are well-versed with optimizing the page load time for enhancing the shopping experiences, and for the overall betterment of your eCommerce store.
Types Of Services Provided By An eCommerce Website Development Agency
There's no point in outsourcing different jobs to multiple outsourcing companies. All you need to do is find or shortlist the one that offers a complete spectrum of services. This way it'll not only be easier for you to get the things done by a single offshore partner rather than hiring a group of companies to manage different tasks, but it will also help you get the store up and running in the minimum possible time frame and budget. So, it is a good idea to ask your potential agency about the services they offer, and if you get it all in one place, why not go for it?

Managing more than one outsourcing partner is a challenge in itself. Save some time by asking them about their span of services. Here are a few services that form the part of eCommerce store design and development services:

Research & Consultation
UI/UX Design & Development
Frontend & Backend Web And App Development
eCommerce Store Migration & Security
Website SEO – Offering Amazon SEO services, product listing optimization services, eCommerce product description writing services, and so on…
eCommerce Support & Maintenance
Quality Assurance & Testing For Better Performance
Custom eCommerce Website Development for multiple platforms viz. Magento, WooCommerce, OpenCart, Shopify, nopCommerce, eBay, Brightpearl Integration, and so on…
Conclusion
A highly experienced eCommerce website development company is well versed with all sorts of store design and development tasks, and can help you with website SEO as well as eCommerce product description writing services. By asking the above questions, you'll not only get clarity on the quality of job the agency will deliver, but also help you handpick the best from a whole bunch of eCommerce website development service providers. The bigger the size of the agency, the better will be chances of getting a quality service deliverance. In fact, your project will be well-organized and divided into several steps, making it all a simplified process.

With an offshore partner at your disposal, you get a promise of a quick turnaround time and accomplishing the job even on a tight deadline. In fact, you might get your project delivered ahead of time due to the availability of experts across multiple time zones and shifts.
Connect With The Experts
SunTecIndia.net is a professional eCommerce website development company offering custom solutions and an assurance to deliver quality within the stipulated time frame and budget. Our experts go all out to fuel your eCommerce sales by integrating all the eCommerce website functions in one place. With our ISO-certified processes and vast years of industry experience, we aim to provide feature-rich solutions, greater visibility, faster checkouts, and more to drive exponential growth.
Get in touch with us at info@suntecindia.net to take things forward.

Welcome to the SunTecIndia.net Blog! This platform is dedicated to the new age, quality-driven eCommerce ecosystem, where we leave no stone unturned to collate the best and latest insights about end-to-end eStore creation, management, SEO, and marketing domains.