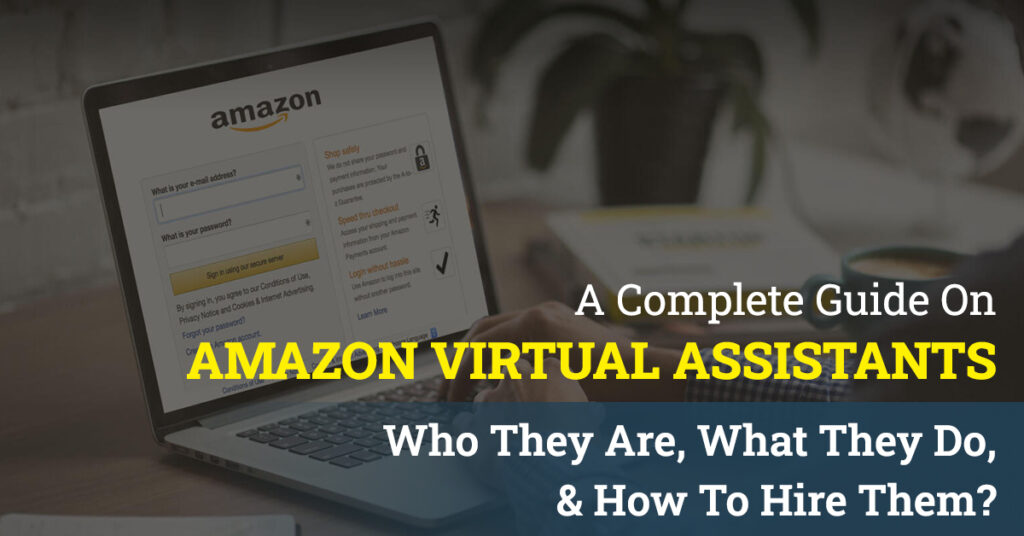 You must have started selling on Amazon with a small planning and much hard work but, with time you are giving a tough competition to similar organizations. Initially, managing office work, your eCommerce website, and Amazon product pages must be easy. But, concerning your business growth, the core activities are becoming difficult to manage on your own. Hiring an Amazon Virtual Assistant having all the required skills and experience is the best go-to solution for every eCommerce business.
So hire a VA today and get effective Amazon product descriptions, product upload, and order management solutions. In this complete guide, we will take you to explore every important detail of Amazon VAs.
Let's Begin!
Table Of Contents
Let us take you through a detailed explanation of the aforementioned topics.
Who Are Amazon Virtual Assistants And What Do They Do?
Amazon Virtual Assistant (VA) has a wide range of skills and abilities to manage several aspects of your eCommerce store on Amazon. Amazon experts handle interaction with your potential and existing customers and also manage backend functions such as fulfilling orders, sourcing and selling inventory and responding to the customer timely.
If you hire Amazon VAs from a reputed and experienced company, you can expect the VA to do content creation of Amazon listing, making it more readable, and also enriching the SEO strategies for each of the products. Let's discuss the role of the Amazon VA in detail.
Major Roles Of Amazon Virtual Assistants
If you hire Amazon VA, you will get five to seven hours of free time every week. Now, think in those 5-7 hours, what all you can do to expand your eCommerce business. Let's look into the certain activities that you take weeks to finish and Amazon experts can finish quickly.
1. Providing service to Amazon customer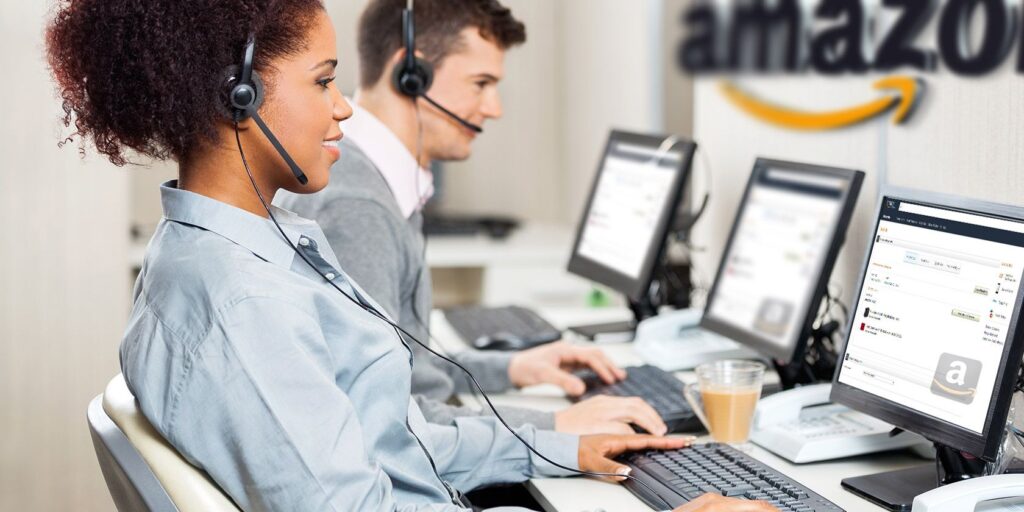 Running a big eCommerce business includes a lot of work, from the management of customers and Amazon product listing, and arranging products for delivery. In between all this, you forget the most important task that your entire eCommerce business depends on – Customer Service.
Hence, Amazon Virtual Assistants are customer-oriented. Below are the customer service tasks that they will be assigned to lessen your workload:
Answering questions asked by the existing and potential customers
For selling on Amazon, you will have to run your business customer-centric. Hence, answering their questions timely is very important. If you hire Amazon experts, they revert to the customer's question as soon as they arrive. And, make sure that the answers are given accurately, professionally, and influencing to retain the customer.
Reverting to the negative reviews on products/ shopping experience
No matter how well you manage, the customer or buyers may get offended by a few things and write negative feedback or reviews on Amazon. Negative reviews are never good for the eCommerce business. And, you should never choose not to answer them. Amazon experts deal with negative feedback very smartly and honestly. As a result, the customer does not keep grudges and believes to shop for your products again.
Creating common message templates for alike questions
Considering the type of your eCommerce business, Amazon VAs can estimate the most common question asked by the customers. Keeping the same questions in mind, they create message formats for common queries, so while reverting to them, they can copy and paste the answer and send it to the concerned person.
Reverting to the positive reviews on products/ shopping experience
Sending thankful messages to the customers who are appreciating your management skill and loving your product is very important. In the end, one is remembered because of its humility. So, never miss a chance to say thanks to your constant and even new buyers. With the flow of the message, VAs can smartly interlink about the new arrival products and sales. This will drive the traffic to your demanded products and increase your sales.
Comparing the order reviews of the products and their delivery
Identifying which customer is happy with your product and which are not is a difficult process. You, being a retailer cannot spend your entire day working on the small yet important tasks alone. Hence, hiring Amazon Virtual Assistants always come in handy. Especially when you outsource this process from an experienced company. Our Amazon experts help you find customers who are unhappy with the product. Email them regarding the same and get back their assurance on your brand.
2. Optimizing Amazon sponsored advertisements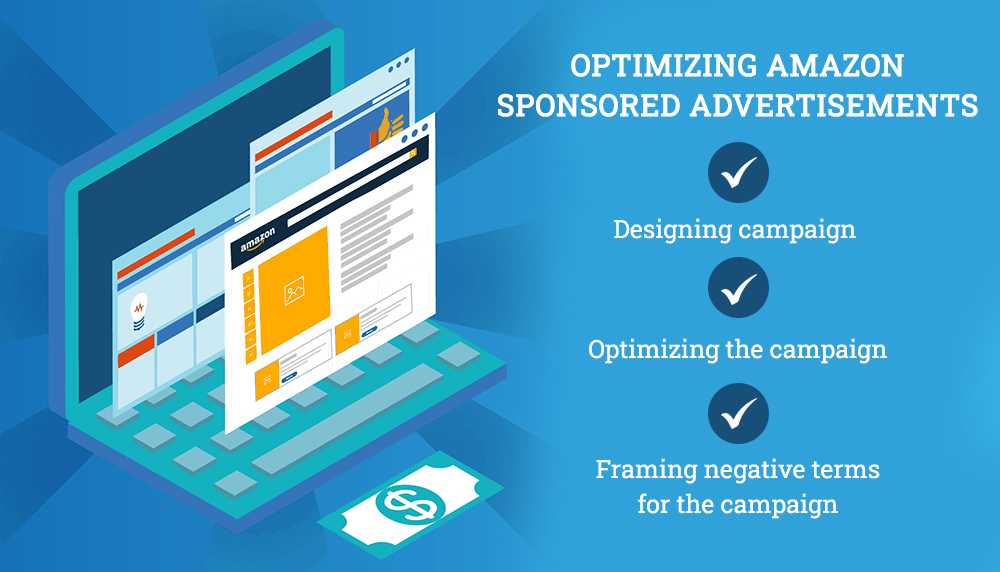 Amazon Virtual Assistants have an entire knowledge of what sponsored advertisements are and how they work to promote your products/ brand. The task of optimizing the Amazon sponsored ads will thoroughly be performed by them. Below are some of the obvious tasks Amazon VAs will do for you as a part of Amazon advertising services:
If you are coming from a non-technical background, the process of creating an advertising campaign for your brand from scratch is a daunting job. Hence, we assign experts with the job. They understand your type of eCommerce business and requirements and design a best-suited advertising campaign that boosts sales and makes your brand's name.
Amazon also analyzes the campaign you are currently running and provides you a piece of detailed information. As not all retailers are experts, they hire Amazon Virtual Assistants. Your VA will go through the analyzed report sent by Amazon thoroughly and make a strategy to enhance the campaign. From the right keywords, click-through rate, overall revenue, and everything will be analyzed. At last, your VA will adjust the campaign as per the requirements and make it ready for advertising.
Framing negative terms for the campaign
Correct usage of negative keywords in Amazon is very important. It helps a seller from losing a potential customer and can save an unnecessary cost-per-click. If you do not use negative keywords, your advertisement for your product will still appear in the search for irrelevant keywords. For example, you are selling forks, your primary keyword will be 'forks'. Customers do not know what kind of forks you sell so your advertisement may appear for 'plastic forks' even if you sell only stainless and wooden forks. As a result, Amazon will charge you for unnecessary clicks. Amazon Virtual Assistant is aware of all such scenarios and frames the right negative keywords for your Amazon marketing.
3. Writing content for your Amazon product page
Your brand will be considered an amazing one only if it has exclusive products, never-before-seen content for your blogs, correct Amazon listings by compelling headlines, informative descriptions, adding focused HD images, and more. Hence, for A+ Content Writing Services, you need someone who can write original copy that suits your brand's vocabulary and empathizes with your target market.
Along with the content, the image has to be eye-catchy and focused as well. Your VA knows the importance of the product image and that is why they also provide Amazon image editing services.
4. Processing orders on Amazon & managing refund and returns
This is the basic thing to do for every retailer whether you do online business or offline. But, when you start your business on both platforms, things become difficult to manage. Hence, hire an Amazon VA who can manage your Amazon order tracking. All the time-consuming work like keeping track of orders placed on a daily basis, delivery dates, billing details, items to be refunded and returned, and more.
5. Handling Amazon Search Engine Optimization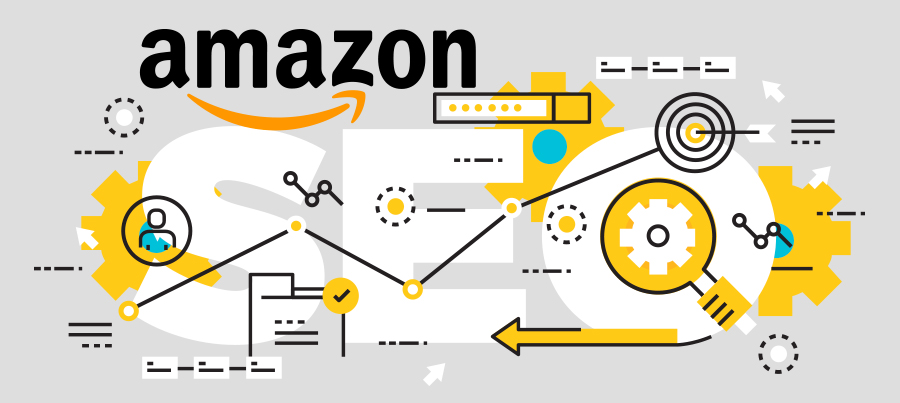 Amazon SEO Virtual Assistants are trained to help every small or large Amazon retailer to accomplish the top rank on the eCommerce market. They use advanced Amazon SEO techniques including the A9 algorithm and implement them very strategically.
Amazon VA makes sure to adhere strictly to the important factors of A9 such as conversion rate, keyword relevancy, and customer satisfaction. Below are some of the Amazon SEO services offered by VAs:
The basic foundation of Amazon SEO is researching keywords. The retailers are not aware of the correct approach of keyword research but Amazon SEO VAs are. VA analyzes your product and finds out the keywords with the highest search volumes and then decides the market. They also focus on the long-tail keywords and their search volume to reach out to a wider audience.
Implementing the keywords in the right way
While adding keywords, Amazon VA will make sure that there is no keyword stuffing. Relevant keywords must be used with the flow of the content. To do this successfully, your research has to be strong. Amazon experts will know how important it is to use the most appropriate keywords.
6. Handling Social media accounts
Before you hire Amazon Virtual Assistant, make sure that the expert can work for your company's online presence even outside of Amazon. It's important to keep updating about your recent sales and discounts on other social media platforms like Facebook, Twitter, and LinkedIn. Your VA will be all-time available to respond to customer questions, concerns, and suggestions, among other things.
Handling other core business activities should also be given priority along with customers' needs. That is why VA takes care of updating your Facebook profile, posting pictures of new items, and so on. Besides, your VA will also offer Amazon product description services for social media platforms so the decision of buying your product can be influenced right from the social media.
These were some of the important tasks well-handled by Amazon VA. Except for the aforementioned tasks they also can look after product sourcing, making barricades for each product, tracking shipments, web designing and developing, and more. Hence, the choice to hire Amazon VAs will benefit in many ways.
Benefits You Get When You Hire Amazon Virtual Assistants
Virtual assistants are of many uses. After discussing their major roles played in an eCommerce company, let us take you through the benefits of hiring them. When you hire an Amazon specialist, you get an expert in both human and non-human forms.
As many activities can be done using automated software tools, which VAs are experts at. You must not have considered recruiting a human assistant before and that is why we have compiled some of the honest benefits of having a VA.
1. Your informational and promotional content is engaging and compelling
The majority of entrepreneurs have a good quality of products but not talented authors or advertising experts to broadcast them. Nevertheless, you have both of the qualities in one expert. With the help of the creative and strategic mind of your VA, you will be successfully ruling on the content marketing platforms. Your blogs, social media pages, ads, and most importantly, product descriptions will assure your boost in revenue.
Also Read : Guide to Write Engaging Amazon Product Descriptions
2. You will get extra time to expand your business
Before hiring a VA, you must have been spending too much time on completing those tasks. As a result, your attention is driven by the other more important tasks for business growth. When an Amazon specialist is completing the tasks on time, he is actually freeing up your time. In this extra time, you can delegate any task that is left pending or can help you in growing your business.
3. Audience reach will be expanded on a global level
Your Amazon Virtual Assistant has been trained well by the agency. Experts know that implementing any advanced campaign, the basic foundation of your product's marketing strategy has to be strong enough. VA will help you create content for the right audience and share the content through the channels that are most used by your potential audience. The contents will be translated into several languages so that you can reach an audience all across the globe.
While approaching a broader range of the audience, their cultural values, language nuances, and requirements will be taken care of by Amazon experts. Hence, you will be successfully accomplishing your target.
4. You will get more profit and business expenses will be reduced
An Amazon VA takes care of a bunch of office tasks for which you used to hire a 10-employee at high salaries. So, basically, if you hire an Amazon specialist, your company expenses will be reduced. You will not only just save money but also, your company's profit is maximized. By critical optimizing sponsored advertisements, Search Engine Optimization, and product listing, more customers will be attracted and your profit will be increased.
By the end of the section, you must have realized, as your eCommerce company grows, you will not feel the strain of having to handle all core jobs. As your Amazon expert will do those tasks for you even better than you could have done.
How Do I Hire Amazon Virtual Assistants?
Before hiring an Amazon VA for your company, you must keep a few things in mind. Understand your business requirements and create a set of relevant skills, required time, experience, and expertise you would need for managing your eCommerce business on Amazon.
Steps To Hire Amazon Virtual Assistants
Step 1: List up your expectations from Amazon experts
Asking the following question to yourself you help you in listing up the expectations you keep from the Amazon Virtual Assistants. Make sure you also consider the root cause alongside.
a). A specific business task that you take too much time to complete, you want your VA to complete within a lightning-fast turnaround time.
b). Your interests do not lie there and you want to hire a dedicated virtual assistant who manages your eCommerce website or can optimize AMZ Listings properly.
c). A team of employees with the necessary skills, knowledge, and experience is required to manage your Amazon product page.
d). Applying the DIY methods to work is decreasing the quality of work. You want to hire Amazon experts for high-quality work.
Considering the same questions will assist you in setting the right expectations from VA for your eCommerce business. Now, let's move to the next step.
Step 2: List up key performance evaluators
It's always better to set the parameters of evaluating VA's key performances. This will help them achieve the business requirements within a respected period and you will be able to track their performances clearly. Hence, consider the enlisted points and set KPI for Amazon Virtual Assistants:
a). Make a list of all the tasks you want to assign them. Set the tasks priority-wise as per your business requirements.
b). How many hours a day you want them to work. You can also set hours per week to make it more flexible for both.
c). Set communication rules and regulations such as when did they start working, how they must inform you after completing a task, and more.
d). Set a complete target to be achieved in a month. So by the end of the month, they know that they are justifying their salary and you are also satisfied.
e). Set an approximate rate for their services per week/ month/ quarter/ year. Also, clarify the method of payment.
f). Share the format of the progress report with them to make them prepare for working with your company.
Step 3: Set a complete range of commitments
It is important to define the scope of the work to the Virtual Assistants before you take them on board. Keep the below-mentioned points in mind before hiring a VA:
a). Don't depend on your VA for something you have not assigned them with.
b). Inform them about an additional assignment in advance if you expect them to complete it on your behalf.
c). Define the level of deliverables and expectations as a mismatch of this leads to waste of money and resources.
d). Keep checking on them regularly even if they are not sharing their work reports.
Keeping the aforementioned things clear before you hire an Amazon Virtual Assistant will help you face any confusion. Now, go through the last step.
Step 4: Run a performance test
If the Amazon Virtual Assistant and their agents have the feature of providing you their sample works or test-run, evaluate their work. This one-day process will help you figure out how dedicated, professional, and profitable they are or they are just faking their skills. Keep the following things in mind while giving a test run:
a). Ask them to perform on one of your top requirements for managing eCommerce business such as keyword optimization, write creative blogs to get leads, and product listing.
b). Brief them about your requirements and expectations for the performance test.
c). Don't load them with lots of work. Choose an assignment smartly, that can be one in a short period.
d). If you have shortlisted an agency, talk to their representative and they will get you their best team or individuals as per your business requirements. If you want to hire Amazon VAs on a freelancing basis, interview them directly.
Hence, this is how you can hire Amazon Virtual Assistants. If you are investing in a VA after estimating the line between your business requirements and their capacity of delivering the services, your investment will not go to waste.
Conclusion
After going through the entire article, we hope you understand what Amazon Virtual Assistants are, what do they do, how they can help you in growing your eCommerce business, and how you can choose the best-suited VA. Once you hire a VA, all the monotonous and difficult tasks will be handled by a dedicated team and you can open exciting opportunities to grow your business.
In case you come across any doubt while going through this complete guide or want to know more about Virtual Assistants, drop a comment below. Our representatives will revert with the best-suited answers to your questions.

Welcome to the SunTecIndia.net Blog! This platform is dedicated to the new age, quality-driven eCommerce ecosystem, where we leave no stone unturned to collate the best and latest insights about end-to-end eStore creation, management, SEO, and marketing domains.