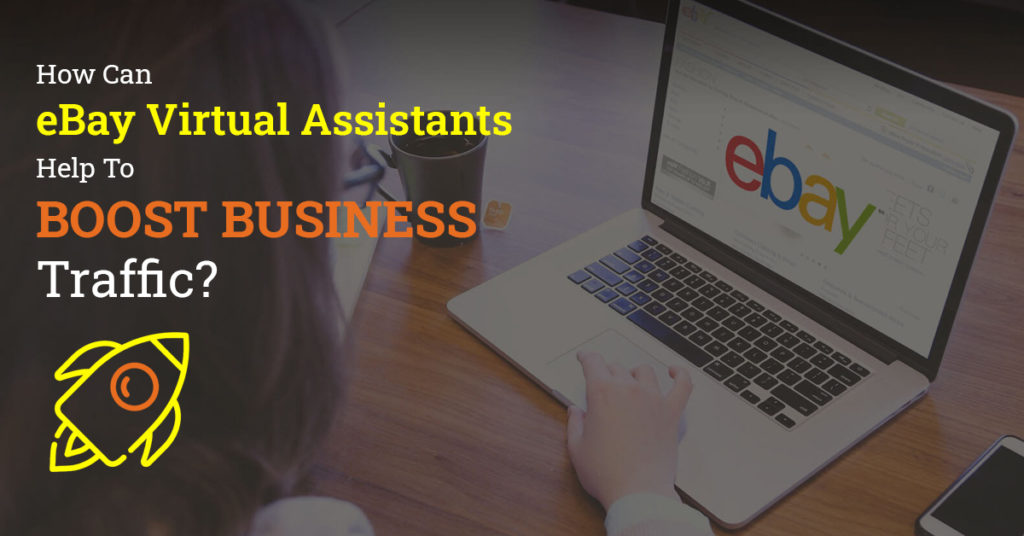 Undeniably, eCommerce is one of the lucrative industries of the present times. The continuous rise in the number of online stores is enough to justify its popularity and demands. As per Statista, in 2020, retail e-commerce sales worldwide amounted to 4.28 trillion US dollars, and e-retail revenues are projected to grow to 5.4 trillion US dollars in 2022. Online shopping has become one of the most popular activities today. There are roughly 7.74 billion people in the world and 27.6 percent of them are online shoppers. But managing an online business in the eCommerce industry is not an easy task. Sellers are fighting for the attention of their potential customers, and it becomes more challenging with a competitive marketplace like eBay.

There is no denying that eBay is one of the most popular and widely used eCommerce marketplaces, with active users of 187 million worldwide in 2010-21. Selling on eBay is one of the profitable things a business must do, but it is only beneficial when done correctly. When a seller starts selling on eBay, several things require consideration, including inventory management, customer support, order processing, and other components. It is obvious that it is not a one-person job. Here eBay virtual assistant comes to rescue the sellers and helps them to boost their business sales and generate a good amount of revenues.

Moving on, let's take a quick view of the eBay VA concept-

What is eBay Virtual Assistant?
An eBay virtual assistant is a remote partner that takes care of every essential factor that plays a vital role in managing your eBay store. Whether it is inventory management, listing optimization, marketing, and promotion, or documentation, an eBay VA ensures to run these operations efficiently without any pause. These virtual assistants keep your eBay account in excellent shape and offer your customers the best online customer support services.

Why does your business need an eBay virtual assistant?
With 187 million active buyers, eBay has over 1 billion active listings; these stats justify how beneficial it is to create eBay stores to take advantage of the marketplace's high traffic. Offering high-quality products is not enough to attract customers and generate profits.

It requires more than that; you need excellent customer service, competitor research, market analysis, product description with rich keywords, product photos, and many more. Unquestionably, these all tasks cannot be performed by you individually; you need higher accuracy and excellence for such challenging activities.

If you are wondering why to hire an eBay virtual assistant, then take a look at the below questions and try to answer them in your mind. 

Are you happy with your eBay store design?
Are you able to manage your inventory and documentation on your own?
Do you respond to your customers on time?
Are you aware of the competitive pricing going on in the market?
Do you know how to keep your product updated according to the market standards?
Is your business having a significant presence on social media?
Are you aware of the social media tactics that help you to expand your business reach?
Do you know how product sourcing works?
Are you able to optimize your product listings to attract customers?
Are you good with product and market research on your own?
If your answers to most of the above questions is No, you definitely require a virtual assistant for eBay that helps you with all the essential activities needed to perform well in the market. An eBay store virtual assistant allows you to keep your store updated with the latest demands and reduce your burden to half. 

I hope this section gives you clarity on why to Hire eBay VA.

Moving on, let's discuss-

What can an eBay Virtual Assistant do for your business?
The crucial responsibility of an eBay virtual assistant is to keep managing the eBay store of the sellers. You can hire a single VA initially, but with a growing business, you require to hire specific eBay VAs to scale your business.

For instance, if you need to create listings for your store, an eBay listing virtual assistant can offer you great help. Or, if you plan to expand your business reach, then a Lead generation VA can help you tap potential customers. 

Therefore, hiring eBay VAs is beneficial as they have expertise in their segments, plus they diminish the chances of errors and requirements of hiring employees for full-time.

In this section, we've mentioned some of the vital tasks an eBay virtual assistant performs for the businesses-

#1 eBay VA for Order and Inventory Management-
Inventory plays a significant role in every selling business, and companies must pay more attention to managing and handling orders and inventories. Hiring eBay store virtual assistants can help companies to track their inventories. These VAs ensure that your eBay stores are always stocked up with required inventories. 

Along with it, an eBay VA also helps you with managing order cancellations, order payments, inventory details, return and refund management and acts as a connection between you and the end suppliers to keep the supply process smooth. 

#2 eBay VA for Product Listing Optimization-
Product listing plays a vital role in grabbing the attention of the end customers, and hiring eBay listing virtual assistants can help you make your eBay product listings more reachable. These Virtual Assistants offer exceptional eBay product listing services and create result-driven listings by adding generic keywords and product descriptions with high-quality images and information within the set limitation of the platform.

eBay Listing Optimization services help you to increase your business sales and reachability.

#3 eBay VA for Product Sourcing- 
Putting up products on eBay stores is not enough to get the attention of your potential customers. Instead of putting up the right products that your customers prefer is more result-driven. But how do you know which product is favourable for customers? Here eBay product sourcing VA helps you find the right products to sell. 

Well, you might be aware of the fact that your eBay store cannot survive with a single product, even if you are the best seller in that category. You definitely require a backup or equivalent product on which you can rely. Here the eBay VA assists you with researching and analyzing the viable products to add to your eBay store. Whether you opt for dropshipping, private label, wholesale or online arbitrage, it keeps you updated with the latest product models introduced in the market and competitors' pricing. 

#4 eBay VA for Customer Services-  
Customers are the vital pillars in the successful building of every business. Without customer satisfaction, a company is not able to survive long in the market. To keep your business ahead of the competitors, you need to make sure that your customers are happy and satisfied with your business services. Managing customers single-handedly is not an easy task, but eBay VA for customer services can handle your customers efficiently. 

They help in managing and controlling all the essential activities that have a significant influence on customer services. From order tracking, refund, and return management to order details, the VAs can perform multiple tasks smoothly.
Whether it is a chat, phone, text, or email, the eBay virtual assistant makes customers' experience smooth by responding to them in time.

#5 eBay VA for Marketing and Promotion- 
To make your product reachable to a large audience, businesses need to promote their products well in the market. But how? This is still a daunting activity for most of the sellers. Some companies might think that hiring marketing professionals is not worth their business, as it costs them huge expenses, plus they require additional tools to market their products. But no, it's not, you can hire eBay VA for marketing and promotions of your business, and it costs you very economical.

The VA helps you with market-winning strategies, assists you with product image editing services, and writes engaging blogs and articles helping your customers learn about your product in detail. 

Moreover, it can help you with email marketing, running PPC campaigns, SEO optimization, paid ads on popular social platforms like Instagram, Facebook, Snapchat, YouTube, and more. This eBay VA knows how to take advantage of the social media platforms and helps you to increase your business traffic and customer engagement. 

Now, let's discuss-

How Much Does it Cost to Hire An eBay Virtual Assistant?
The cost to hire eBay Virtual assistant is one of the most critical parts for almost every eBay seller. The pricing structure of hiring eBay VA generally depends upon the services you are looking for, say eBay Listing Optimization or customer management require different skills levels and different work hours.

At SunTecIndia.net, we have a straightforward pricing system. Schedule a call today with our experts to know the pricing in detail. We believe in working with flexible pricing models, and we are sure that you like our pricing structure.

Final Words 
Indeed, it is a long post to read, but we are sure that you got what you are looking for if you have come along at this section. We hope you like this post, and now you are well-versed with the concert of eBay virtual assistant and how to use it in your eBay selling business. 
Running an eBay business is not an easy activity; it requires a lot of time and effort. Hiring a virtual assistant for eBay is a profitable deal to seal as it comes with several benefits and saves you huge costs and time. It releases you from the burden of keeping your hands in multiple business activities. By hiring eBay VA specialists, you will get help in managing your tasks, but you will also get assistance in keeping things right, ultimately leading to an increase in your business reach.

Welcome to the SunTecIndia.net Blog! This platform is dedicated to the new age, quality-driven eCommerce ecosystem, where we leave no stone unturned to collate the best and latest insights about end-to-end eStore creation, management, SEO, and marketing domains.