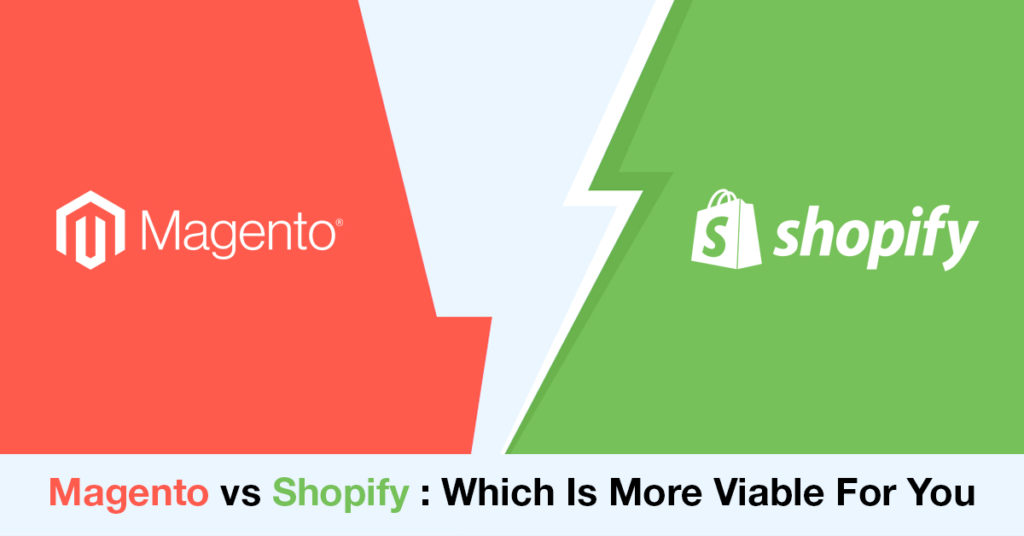 Choosing a befitting eCommerce platform for setting up your very own online store is pivotal for the success of your online business, especially if you own a small business with limited set of resources and money. 

Magento and Shopify are the most popular choices of eCommerce platforms. However, they are a lot different, we are here to make you decide and pick the most suitable one for your eCommerce website. Let us begin!

Shopify is said to be an all-in-one platform whereas Magento is a strong contender to handle a rather large and complex eCommerce website. However, both of these have been acclaimed as a reputed name on the global front for creating and managing eCommerce stores efficiently. Let us first start with a quick comparative evaluation of their merits and demerits.

The Pros and Cons
Let us throw some light on what you can expect from both Magento and Shopify respectively. Take note of these pros and cons:
Pros and Cons Of Magento
| | |
| --- | --- |
| Pros of Magento | Cons of Magento |
| It is open-source and free to use | Not suitable for beginners, involves codes and jargons that are not beginner-friendly |
| Offers flexibility with a great deal of customizations | Setting up consumes a great deal of time |
| A large user community with excellent support | High costs required for store set up |
Pros and Cons Of Shopify
| | |
| --- | --- |
| Pros of Shopify | Cons of Shopify |
| Involves multichannel selling with platforms like Amazon, eBay, Facebook, Instagram, etc. | Transaction fees is involved unless you use Shopify payments |
| Extensive range of mobile-responsive store themes to pick from | App integrations make it all the more complex |
| Room to extend site functionality with a gamut of apps available | Most themes are paid |
| Easy to use | |
Now that you have got an idea about the various pros and cons of both the platforms, let us move towards comparing the pricing or the costs involved in setting up as well as monthly/annual fees.
The Costing Comparison
As far as the setup fees is concerned, Shopify doesn't charge for it, rather it offers a 14-day trial allowing businesses to test the various features and functionalities. On the other hand, Magento is free to use and therefore, no setup fees required.

Furthermore, Shopify has an array of plans that ranges from $14 to $179 including the Shopify lite plan, basic shopify plan, advanced Shopify plan, and so on. If you go for Magento, you might have to opt for your own hosting which usually starts at $5.

While there are no bandwidth charges as far as Shopify is concerned, with Magento, you might have to bear the bandwidth usage charges.

If you choose Shopify, you don't have to pay any additional transaction fees if you use their own payment gateway. But, if you talk about Magento, you get better payment processor options with over 150 payment gateways.
The Comparison Of Usage
You must choose a platform that allows you to create the eCommerce store you always wanted. If the platform is easy to use, then it will be easier for you to build and enhance the goodwill of your brand.

Shopify is, without a doubt, a better option as it is easier to use than Magento. Shopify allows even a novice to create an online store through its wizard mode. Infact, since Magento is not a hosted solution, it requires you to go for your own hosting as well as setup the store which can be quite a taxing job. So, when you compare both on the basis of ease-of-use, Shopify is clearly a winner.
Comparison On The Basis Of Themes & Design Availability
Shopify has a rather broad range of themes available to its users, that too at affordable rates. Infact, one can easily customize the themes based on the desired needs. And they being mobile responsive is definitely a plus! On the other hand, with Magento, one has to pick from a limited set of themes and designs. So, as far as the themes and design are concerned, Shopify offers a wider spectrum of themes than Magento and you don't even need to write complex codes to customize them as per your business need.
Comparison From the Point Of View Of SEO
SEO or Search Engine Optimization is the process of garnering the attention of your target audience by integrating efforts in the direction of increasing relevant traffic and boosting sales.

Magento stands ahead of Shopify in the SEO arena. It offers a plethora of built-in features like giving you the option to customize the URLs, SEO prompts, editing image alt tags, and so much more. When you go for Shopify platform, you might just have to seek and install different apps to cater to your varied SEO requirements. You can outsource eCommerce SEO services for both Magento and Shopify.
Magento vs. Shopify – The Verdict
Shopify is focused more on rendering a user-friendly experience with a faster setup. Your online store will be up and running with the Shopify platform. Magento, on the other hand, is more like a project. You will have to rely on a professional developer who has the technical know-how and expertise to get your store up and running for you. You can simply hire a custom ecommerce development company to get the things done.

Go for Shopify if:
You intend to go online as soon as possible
You are well-versed with any of the eCommerce website builders, for instance, Weebly, SquareSpace or Wix
You are starting your own eCommerce store from scratch and hope to build a flourishing business venture
You intend to setup your store conveniently with a support team always at your disposal, even if it means going for an all-in-one payment
Go for Magento if:
You are familiar with the codes and intend to set up an online store for medium/large business potential
You are seeking creative freedom through your coding expertise
You already have an online presence globally
You are ready to invest time, money and resources into your online store creation, management and maintenance
You are seeking to build a bigger brand with even bigger revenue opportunities
Conclusion
Whichever platform you choose, we are sure you'll gladly boast its success and move ahead with even greater possibilities to succeed and expand. SunTecIndia.net is an offshore service provider rendering custom Magento eCommerce website development services to cater to the distinct needs, that too at an affordable cost. Go ahead and connect with us at info@suntecindia.net.

Welcome to the SunTecIndia.net Blog! This platform is dedicated to the new age, quality-driven eCommerce ecosystem, where we leave no stone unturned to collate the best and latest insights about end-to-end eStore creation, management, SEO, and marketing domains.